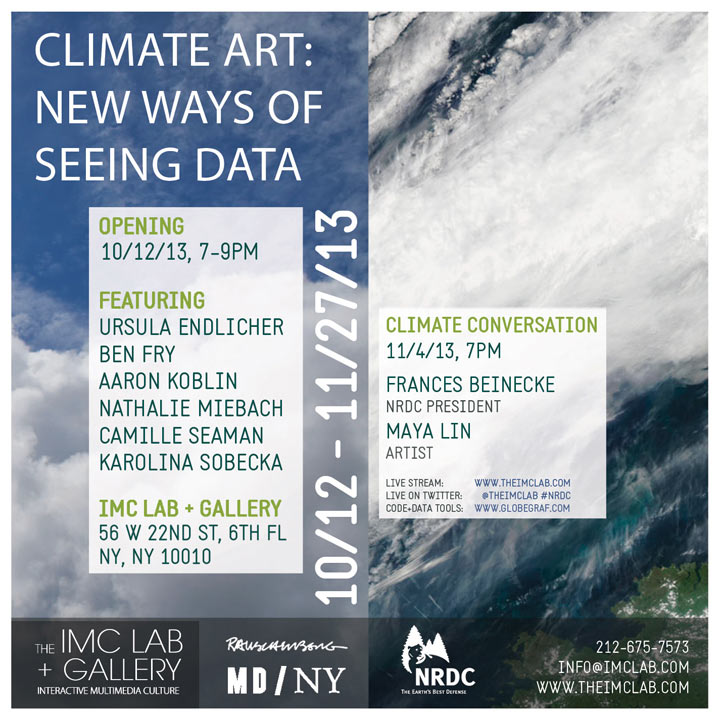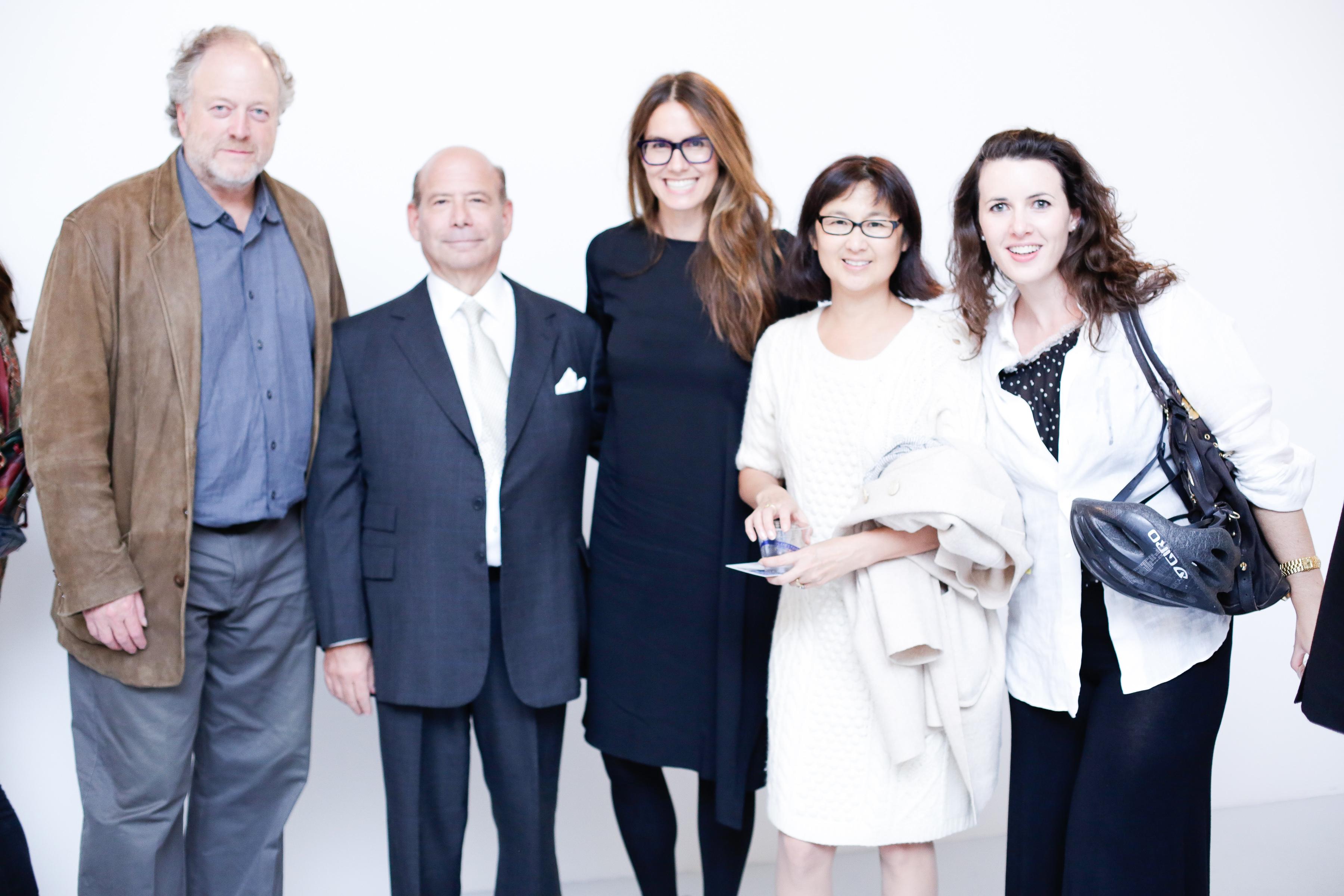 "Climate Art: New Ways of Seeing Data"
10/12-11/27, at the IMC Lab + Gallery, 56 W22 st. 6 fl, NY, NY
Produced by the IMC Lab + Gallery, Curated by Isabel Walcott Draves, With the Robert Rauschenberg Foundation & NRDC,
Marfa Dialogues / New York
Artworks by: Ursula Endlicher, Ben Fry, Aaron Koblin, Nathalie Miebach, Camille Seaman and Karolina Sobecka
Talk: Maya Lin, Artist and Frances Beinecke, President NRDC (11/4, 6-8PM at WYNC Greene Performance Space, 44 Charlton St. NY, NY - Watch Live )
FOR IMMEDIATE RELEASE:
NEW YORK, NY, SEPTEMBER 23, 2013 — The IMC Lab + Gallery is pleased to present "Climate Art: New Ways of Seeing Data", a data visualization show, in collaboration with the Robert Rauschenberg Foundation, Ballroom Marfa & NRDC, curated by Isabel Draves, founder of LISA (Leaders in Software and Art). This exhibit will be on view October 12 through November 27 as part of Marfa Dialogues/NY, a citywide examination of climate change science, environmental activism and artistic practice taking place throughout New York this October and November. Marfa Dialogues/NY will feature more than 20 Program Partners, including The IMC Lab + Gallery, NRDC, and a spectrum of exhibitions, performance, and interdisciplinary discussions at the intersection of the arts and climate change.
Can the things we once thought of as infinite be quantified? If they are not infinite, when will they end?
Featuring work by Aaron Koblin, Ben Fry, Ursula Endlicher, Nathalie Miebach, Karolina Sobecka, and Camille Seaman, this collection of works brings together for the first time a selection of pieces by established software artists that attempt to measure the immeasurable: the directed gaze, existence, the sky, power. Looked at through the lens of Climate Change, these works make us think about our interaction with the natural world, and whether something that used to seem impassive, impenetrable, and immovable -- the globe, the bedrock we stand on, this Earth -- is in fact as fragile as a cloud.
If taking the measure of something means forming an opinion about it, the data driving these pieces make us think more carefully about the logistics of our environment. The exhibit invites the viewer to notice our ecosystem and consider our impact upon it as a real and quantifiable force.
"In an era of climate change and species extinction, it only makes sense that we try to document the minutiae of what remains. But it is just as logical to pause from time to time to consider what cannot be calculated". Akiko Busch, Author, The Incidental Steward: Reflections on Citizen Science
Discussion with Maya Lin and Frances Beinecke Connecting Art and Climate
On Monday, November 4th, two of the leading voices on the issue of climate change -- artist and honorary NRDC Trustee Maya Lin and NRDC President Frances Beinecke -- will discuss the critical role artists, advocates and scientists play in addressing climate change, the role of art in mobilizing and educating the public, and the great potential for environmentally focused artwork to affect climate change policy. The interactive discussion, part of the Marfa Dialogues / New York series, will use Maya Lin's most recent project, What is Missing?, as an example of collaborations to engage the public about climate change. Anne Pasternak, President and Artistic Director of Creative Time will moderate the discussion.
LIVE STREAM: http://TheIMClab.com/live
LIVE TWEETS: @TheIMClab #mdny #datavis
"Unchopping a Tree," part of Maya Lin's last memorial entitled What is Missing?
© What is Missing? Foundation
Music donated by: Brian Eno and Brian Loucks
Support provided by: The Betsy and Jesse Fink Foundation
Louis Bacon, Moore Charitable Foundation
Rockefeller Brothers Fund
From Frances Beinecke's Blog
Marfa Dialogues, Maya Lin, and Me: How Artists and Advocates Can Protect the Environment
Exhibition partners:
http://RauschenbergFoundation.org
Artists & Artworks:
Aaron Koblin
Flight Patterns, 2011
Animation
About the artist:
Aaron Koblin is an artist and designer specializing in data and digital technologies. Aaron's work uses real-world and community generated data to reflect on cultural trends and the changing relationship between humans and the systems they create. His work is part of the permanent collection of the Museum of Modern Art (MoMA) in New York, the Victoria & Albert Museum (V&A) in London, and the Centre Pompidou in Paris. His projects have been shown at international festivals including TED, Ars Electronica, SIGGRAPH, OFFF, and the Japan Media Arts Festival. He received the National Science Foundation's first place award for science visualization and two of his music video collaborations have been Grammy nominated. He received his MFA in Design|Media Arts from UCLA. In 2010 Aaron was the Abramowitz Artist in Residence at MIT and he leads the Data Arts Team in Google's Creative Lab. Know more about him at Ted Talk, Creators Project, Future of Storytelling. View more of his work at www.AaronKoblin.com (text from the artist)
About the artwork:
Flight Patterns is a data visualization project from designer Aaron Koblin that traces domestic airline traffic during a single 24-hour period over North America. Flight paths, using datasets provided by the Federal Aviation Administration (FAA) from 2005 and later from August 12, 2008, are rendered in color as arced trajectories. Koblin received flight locations every three minutes and interpolated those values to understand the path of each plane, plotting them with the Processing programming environment. He used Adobe After Effects and/or Maya to composite the frames in the final animated sequence. The result is a stunning visual animation in which the ebb and flow of flight patterns mimic waking life. Bursts of activity erupt as the East Coast awakens, following the sunrise across the rest of the country. Incoming flights from Europe descend upon the East Coast. Regional hubs become hotspots, clarified at a glance. The country is ablaze in midday air traffic. West Coast red-eyes begin their journey across an otherwise dark country. Flight Patterns recontextualizes raw flight data into a 56-second reflection on life and technology, tracing air traffic synapses, bursts, and connections to generate a cartographic portrait of North America. Koblin initially developed Flight Patterns as a series of experiments for Celestial Mechanics in 2005, a planetarium-based artwork installation by colleagues at UCLA, where he was completing his MFA in Design|Media Arts. Celestial Mechanics sought to visualize and dynamically present the aerial objects hovering, flying, and orbiting above our heads. Koblin briefly continued the Flight Pattern series when, in 2008, he created further flight studies, examining altitudes and aircraft types monitored by the FAA during a single 24-hour period. The work maintains its significance in the canon of data visualization: elegantly rendering air traffic data as cartography. (text from https://www.cooperhewitt.org/2015/08/05/flight-patterns/)


Ben Fry
Powering the World, 2013
Data Visualization & Interactive Installation
About the artist:
Fathom Information Design is a Boston-based design consultancy that helps clients understand and express complex data through information graphics, interactive tools, and software for installations, the web, and mobile devices. With a close knit team of designers and developers, Fathom distills large datasets into clear and nuanced stories. In 2013, Fathom won a Global Editors Network Data Journal ism Award and was a finalist in Fast Company's Innovation by Design Awards. Ben Fry, principal of Fathom, holds a PhD from MIT's Media Lab, where his research focused on combining fields such as computer science, statistics, graphic design, and data visualization as a means for understanding information. Ben won the National Design Award for Interaction Design in 2011. (text from the artist)
About the artwork:
"Powering" visualizes data about the location and power output from 713 GE gas turbines during fifteen days. In the "Powering" data set, we discovered that turbines located in the same area work together for efficiency and sustainability. Globally, there's no intentional, overarching structure to how the turbines fire up. Yet patterns emerge when turbines sharing time zones turn on and off at the same time. You can see these correlations in the final piece: the illuminated lines rolling towards the center at the same time indicate turbines turning on in unison. We chose each design element to best highlight what the data represented. The designs either evoke thoughts of the actual events and actions that the data signifies (turbines turning on, electricity being generated) or show a story of time and scale that is otherwise difficult to grasp (what do 135,000 scans really look like? What do they look like when spread across five continents?). The design also allow for different perspectives in a single interface. The wheel in "Powering" shows the correlation of turbines turning on at the same time that it shows each turbine's location and power output. This ensures that no data point is presented without context that lets an audience put it in perspective. Even if this visualization tells a small story, just a short glimpse into a larger story of activity across the world, it still rewards the audience for taking an interest and a closer look. It makes accessible actual numbers and output that would otherwise be buried in a spreadsheet. The piece is now being displayed on a large touch screen wall in the GE lobby. It was also on display during the World Economic Forum Annual Meeting in Davos. (text from https://fathom.info/notebook/2124/)


Camille Seaman
The Last Iceberg, 2013
Photographs
About the artist:
Camille Seaman was born in 1969 to a Native American (Shinnecock tribe) father and African American mother. She graduated in 1992 from the State University of New York at Purchase, where she studied photography with Jan Groover and has since taken master workshops with Steve McCurry, Sebastiao Salgado, and Paul Fusco. Her photographs have been published in National Geographic Magazine, Italian Geo, The New York Times Sunday magazine, Newsweek, Outside, Zeit Wissen, Men's Journal, Camera Arts, Issues, PDN, and American Photo among many others, She frequently leads photographic and self-publishing workshops. Her photographs have received many awards including: a National Geographic Award, 2006; and the Critical Mass Top Monograph Award, 2007. In 2008 she was honored with a one-person exhibition, "The Last Iceberg" at the National Academy of Sciences, Washington DC. Camille Seaman lives in Emeryville, California, and takes photographs all over the world using digital and film cameras in multiple formats. She works in a documentary/fine art tradition and since 2003 has concentrated on the fragile environment of the Polar Regions. www.CamilleSeaman.com (text from the artist)
About the artwork:
"Nick Cave once sang, 'All things move toward their end.' Icebergs give the impression of doing just that, in their individual way, much as humans do; they have been created of unique conditions and shaped by their environments to live a brief life in a manner solely their own." She explains that some go the distance traveling for many years slowly being eroded by time and the elements; others get snagged on the rocks and are whittled away by persistent currents. Still others dramatically collapse in fits of passion and fury. The Last Iceberg chronicles just a handful of the many thousands of icebergs that are currently headed to their end. "I approach the images of icebergs as portraits of individuals, much like family photos of my ancestors," Seaman adds. "I seek a moment in their life in which they convey their unique personality, some connection to our own experience and a glimpse of their soul which endures."
(text from https://www.lensculture.com/articles/camille-seaman-the-last-iceberg)


Ursula Endlicher
Partly Cloudy Structures, 2010
Online data performance & installation
About the artist:
Ursula Endlicher's work resides at the intersection of Internet art, performance, and multi-media installation. Since the mid 1990ies her practice has been bridging the gap between the World Wide Web and physical reality. She translates the structural compo- nents of networks––be they human-made or naturally occurring––into choreographies for performances, installations and objects. She has exhibited and performed her work at venues internationally, among them the Whitney Museum of American Art's artport; ZERO1Festival, San Jose; transmediale11 festival in Berlin; SIGGRAPH Asia, Japan; Jersey City Museum, NJ; Postmasters Gallery, New York, NY; the Center for Performance Research, Brooklyn, NY; Lightindustry, Brook- lyn, NY; the Center for Contemporary Art Ujazdowski Castle, Warsaw, Poland; Quarti- er21/Museumsquartier Vienna/Austria; Beral Madra Contemporary Art Center in Istanbul/ Turkey; and Woodstreet Galleries, Pittsburgh, PA. Her most recent Internet-driven theater work is currently presented at the "Experimental Media Performance Lab" at UC Irvine, while others have been presented by the "Theater am Neumarkt" in Zürich, Switzerland. Endlicher's Internet projects have been commis- sioned for the Turbulence website and she has participated in the Virtual Residency 2.0 at Location One. Her work is part of the Rose Goldsen Archive of New Media Art at Cornell University, and the ursula blickle's videoarchiv at the Belvedere in Vienna, Austria. www.Ursenal.net (text from the artist)
About the artwork:
Partly Cloudy Structures (text from http://ursenal.net/partlycloudystructures/index.html)


Nathalie Miebach
O Fortuna, Sandy Spins, 2013
Reed, wood, rope, bamboo, weather data
About the artist:
Nathalie Miebach explores the intersection of art and science by translating scientific data related to meteorology, ecology and oceanography into woven sculptures and musical scores/ performances. Her main method of data translation is that of basket weaving, which functions as a simple, tactile grid through which to interpret data into 3D space. Central to this work is her desire to explore the role visual and musical aesthetics play in the translation and understanding of complex scientific systems, such as weather. By utilizing artistic processes and everyday materials, she is questioning and expanding the traditional boundaries through which science data has been visually translated (ex: graphs, diagrams), while at the same time provoking expectations of what kind of visual vocabulary is considered to be in the domain of 'science' or 'art'. Miebach is the recipient of numerous awards and residencies, including a Pollock- Krasner Award, TED Global Fellowship, Massachusetts Cultural Council Fellowship and a recent nomination for the World Technology Award and the Brother Thomas Fellowship. Her work has been shown in the US, Europe and Australia and has been reviewed by publications spanning fine arts, craft, design, and technology. She lives and works in Boston (USA). www.NathalieMiebach.com (text from the artist)
About the artwork:
One of the most enduring images of Hurricane Sandy for me were the photographs of the Star Jet Rollercoaster from Seaside Heights, NJ, washed away from its pier mooring, and the eery, desolate and damaged area of the Coney Island amusement rides. These wrecks, as seen from the shore, became an ominous and emblematic image of changing weather and ocean conditions due to climate change.This piece takes weather and ocean data from Coney Island, NY and Seaside Heights,NJ during Oct 29, when Sandy took a ride on both the Jet Star Roller coaster and Deno's Wonder Wheel. (text from http://www.nathaliemiebach.com/gulf16.html)


Karolina Sobecka
Clouds from Both Sides, 2013
Photographs & video
About the artist:
Karolina Sobecka works with animation, design, interactivity, computer games and other media and formats. Her work often engages public space and explores the way we interact with the world we create. Karolina received her BFA from the School of the Art Institute of Chicago and her MFA from Calarts in Experimental Animation/Integrated Media. She has also studied and taught in the University of Washington's Digital Arts and Experimental Media PhD program. Karolina's work has been shown internationally, including at the Victoria & Albert Museum, MOMA, Beall Center for Art + Technology, ISEA and Medialab Prado. She has received awards from, among others, NYFA, Creative Capital, Princess Grace Foundation, Rhizome, Platform International Animation Festival, Vida Art and Artificial Life Awards, and the Japan Media Arts Festival. http://cargocollective.com/karolinasobecka (from the artist)
About the artwork:
Clouds are visible from two sides, looking up from the ground but also when looking down from the sky. The exhibition 'Clouds from both sides' by Polish artist Karolina Sobecka wil be the eighth and last Weather or Not exhibition at the MU container at Plug in City, Strijp-S. While a satellite passes over our location and captures images of the atmosphere, we
take photographs looking up, towards the satellite. We record an observation of the clouds from the perspective of a human experience, as 'ground truth.' The observation takes the form of a conversation that attempts to capture the moment in description and to discuss the complexities of modes of knowledge production beyond binaries of inside/outside, subjective/objective, top-down/bottom-up. The double viewing grounds the incomprehensible 'climate' to the earth, while stretching our physical comprehension beyond the point where it droops off. The participants in the project include writers, climate scientists, artists, weathermen and many others. (text from https://www.mu.nl/en/about/agenda/weather-or-not-8-clouds-from-both-sides-by-karolina-sobecka)


Speakers:
Maya Lin
At age 21, while still an undergraduate at Yale University, Maya Lin shot to fame when she won the design competition (supported by NEA funding) for the Vietnam Veterans Memorial in Washington, DC. A native of Athens, Ohio, Lin went on to earn her master's degree in architecture from Yale in 1986, and has received numerous prizes, awards, and honorary doctorates, including the National Medal of Arts in 2009. Throughout her career, she has moved fluidly between the realms of art, architecture, and memorials, maintaining a steady focus on the landscape and environment. Whether designing sculpted outdoor earthworks or private residences, Lin reinterprets the world around us into visually stunning, intellectually compelling pieces. She is currently at work on her final memorial What Is Missing?, a multiplatform piece which will call attention to current environmental issues. In her own words, Lin discusses her creative process and the "tripod" nature of her body of work. (text from https://www.arts.gov/NEARTS/2011v4-what-innovation/maya-lin


Frances Beinecke
Frances Beinecke served as NRDC's president from 2006 to 2015. Under Beinecke's leadership, NRDC focused on finding solutions to some of the biggest environmental challenges of our time, including establishing a clean energy future that curbs climate change, reviving the world's oceans, defending endangered wildlife and wild places, protecting our health by preventing pollution, fostering sustainable communities, and ensuring safe and sufficient water. Prior to her role as NRDC president, Beinecke was the organization's executive director for eight years. In 2010, she was appointed by President Obama to the National Commission on the BP Deepwater Horizon Oil Spill and Offshore Drilling. She was a member of the U.S. Secretary of Energy's advisory board from 2012 through 2016. She currently serves on the advisory board of the MIT Energy Initiative, as well as the boards of the NRDC Action Fund, ClientEarth, Climate Central, and the World Resources Institute. Beinecke holds a bachelor's degree from Yale College and a master's from the Yale School of Forestry and Environmental Studies. She has cochaired the Leadership Council of the Yale School of Forestry and is a former member of the Yale School of Management's Advisory Board and the Yale Corporation. Beinecke has received the Yale Medal from Yale University along with numerous other awards and honors. She was awarded an honorary degree from Lehman College, Doctor of Humane Letters, and an honorary degree from Vermont Law School, Doctor of Laws. (Text from https://www.nrdc.org/experts/frances-beinecke
Exhibition documentation: